As the country continued its economic recovery this year, life began returning to normal.
From the belated Olympics to political upheaval and petrol shortages, it was an eventful year.
2021 also saw two budgets, and various tax and pension announcements, including the introduction of the Health and Social Care Levy, and the suspension of the State Pension triple lock.
Keep reading for five financial lessons we took from 2021.
1. Inflation is the greatest danger to your cash savings
This year the cost of living reached a 10-year high, as inflation rose to 5.1% in November.
The rising cost of fuel and of eating in pubs and restaurants is partly to blame, as is a shortage of workers and raw materials in UK factories.
With interest rates low and inflation rising, cash savings are losing value in real terms. The issue has become so serious that the FCA launched a campaign earlier this year to reduce the number of UK savers with £10,000 or more in their bank.
The campaign could encourage 1.7 million people to turn to investing, which brings added risk, but also the opportunity to see inflation-beating returns.
2. Tax and allowance freezes will hit pockets between now and 2026
Back in August, we asked what does the chancellor's Lifetime Allowance freeze mean for you? in response to just one of several tax and threshold freezes announced during 2021.
The chancellor's Spring Budget saw a freeze to the pension Lifetime Allowance (£1,073,100), the Capital Gains Tax allowance (£12,300), and the Inheritance Tax nil-rate band (£325,000) and residence nil-rate band (£175,000).
While the Personal Allowance did increase in April 2021 (from £12,500 to £12,570), it, along with the above allowances, is now frozen until 2026.
Over the next five years, as house prices increase and your investments and pensions grow, many more people will become liable for tax.
3. Patience and sticking to your plan are crucial
Investment should always be a long-term proposition, based on sound knowledge of your risk profile, and with a long-term goal in mind.
While 2020 saw the worst of the pandemic's effects on global markets, the UK economy has had a slow and bumpy ride in 2021 too.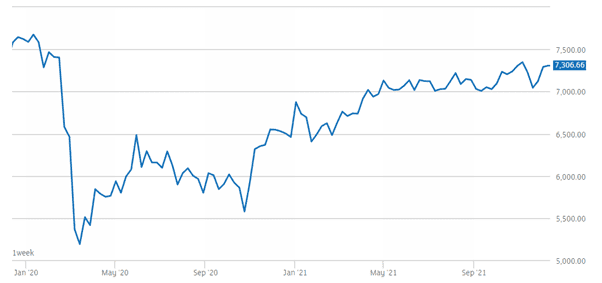 Source: London Stock Exchange
After lockdowns early in the year, the FTSE 100 began to rise and is now much closer to pre-pandemic levels. The threat of new variants and the reintroduction of some restrictive measures, though, confirms that the pandemic is still very much with us.
Your long-term investment plan is diversified to spread risk and has a long-term goal to ride out periods of short-term volatility. Patience is key.
Blocking out the noise and focusing on your long-term goal is the best way to make your investment dreams a reality.
4. Scams are getting more sophisticated, so vigilance is key
In June, we delved into UK fraud figures. We asked "Scam or not a scam?" and looked at three potential frauds as well as how to spot them.
Scam numbers increased dramatically at the start of the pandemic and yet figures for 2021 are even more concerning. UK Finance, in their half-year report for 2021, found pension, investment, authorised push payment (APP) and romance scams all on the rise.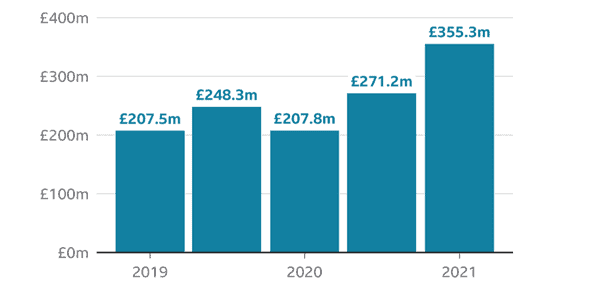 Source: BBC
Losses from APP scams alone rose 71%.
These scams involve fraudsters tricking you into transferring your funds directly to them. Impersonation scams – in which the fraudster claims to be from your bank or the police – rose 129% in the first half of 2021 compared to the same period in 2020.
Visit the FCA's ScamSmart site for information and be sure to speak to us before you make any big financial decisions.
5. The need for protection is more important than ever
Back in March, we looked at how protection products bring hope when you need it most and the importance of both income protection and critical illness cover.
Income protection allows you to maintain a regular income if you stop work due to an accident or illness. These payments ensure you can continue to afford monthly outgoings like rent or mortgage repayments.
Critical illness cover, meanwhile, usually involves a one-off payment if you are diagnosed with a critical illness.
The events of the last two years have made abundantly clear how quickly our lives can change. Protection can make a huge difference to your peace of mind, giving you a sense of control over your finances.
If you are still unsure, read 3 protection and insurance myths that Fingerprint busted back in July.
Get in touch
At Fingerprint Financial Planning, our expert financial planners and mortgage advisers are here to assist you, whatever aspect of your finances you'd like to discuss as the new year approaches. Get in touch by emailing hello@fingerprintfp.co.uk or call 03452 100 100.
Please note
The value of your investments (and any income from them) can go down as well as up and you may not get back the full amount you invested. Past performance is not a reliable indicator of future performance. Investments should be considered over the longer term and should fit in with your overall attitude to risk and financial circumstances.