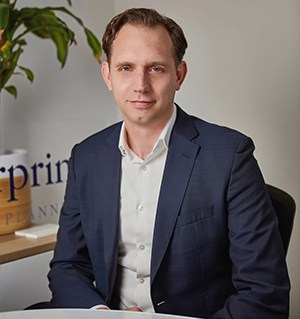 Paul Spencer-Nixon
FINANCIAL PLANNER & PRINCIPAL PARTNER
I've been a financial adviser for almost 20 years, having worked in banks, wealth management and independent financial advice (IFA) firms.
At work
I've been a financial adviser for almost 20 years, having worked in banks, wealth management and independent financial advice (IFA) firms. This experience, combined with building Fingerprint Financial Planning, and growing and overseeing our employed advisers, has made me a very experienced adviser and an expert at finding solutions.
With my solution-focused approach, and the team behind me, we ensure that our clients receive the best advice available to them.
DipFP
Diploma in Financial Planning. This qualification develops advanced technical knowledge and understanding across a broad range of key advisory areas.
MAQ
Mortgage Advice Qualification. This qualification assesses the knowledge and understanding of the UK regulation environment in the financial services industry together with types of mortgage products and repayment options and the giving of mortgage advice.
ER1
Equity Release. This examination assesses a knowledge and understanding of the different types of equity release products, risks to the consumer associated with equity release and application of suitable equity release solutions according to the circumstances of different customers.
AF3
Pension planning. This examination assesses the candidate to develop in-depth financial planning skills related to personal and corporate pensions.
AF4
Pension Planning. This examination assesses the candidate to develop in-depth financial planning skills related to personal and corporate pensions.
AF5
Financial Planning Process. This examination assesses the candidate to develop an understanding of the financial planning process when giving advice to clients.
Over a number of years, Paul has regularly helped me make the most of my money and ensure I have a plan to be comfortable in later life.
Clients since 30/01/2013
Initially, I approached Paul for help with a mortgage, but we're now looking at where to best place my savings and my future planning for retirement. I've received sound and elaborate advice.
Client since 11/02/2016
Paul has always worked hard to research the full market to find the right mortgage deal for me. Paul is not affiliated to any lenders so I always get the most competitive rates available. I receive completely impartial financial advice which is tailored to my personal needs.
Client since 14/06/2013
Paul explained everything very clearly and took the time to find out about my financial history so he could better understand what would be the best option for me.
Client since 24/07/2019
Paul was recommended to us to help with Inheritance Tax planning. The service exceeded our expectations and we have been pleased with the outcome.
Client since 20/09/2019
Paul was very honest and open and made sure that I understood every step. There's nothing that he could have done better.
Client since
Fingerprint Financial deal with our pensions, insurances, mortgages, long-term planning and Inheritance Tax planning. Paul's experience and knowledge in all these areas has been invaluable in ensuring our financial outcome and future is secure, planned and constantly managed.
Client since
After some time worrying about my pension, Fingerprint Financial Planning has located pensions I would never have found. I'm very happy with the good service and would recommend to friends and family.
Clients since 01/08/2019
Absolutely fantastic service. The staff are amazing, friendly but very professional and quick to respond to any questions. We would thoroughly recommend Fingerprint to anyone requiring financial advice.
Clients since 24/07/2019
Excellent service. This isn't just a mortgage broker or a financial and wealth planner, this is a full service financial advisory service. The staff are friendly, efficient and work at pace. In today's world of ticking boxes and scripted replies, it's refreshing to get a personal touch.
Client since 14/03/2019
Highly recommended. Professional, friendly people who are very knowledgeable and helpful. They put your mind at ease because they know their stuff.
Client since 01/05/2019
I received a very good service from Fingerprint Financial Planning and would recommend them to anyone.
Client since 24/07/2019
Exceptional service once again, quick, efficient and smooth service as always.
Clients since 05/09/2019
I thought I was fairly money savvy, but after speaking with the small, really friendly non-judgemental team, they gave me other options I had not thought about. Fingerprint Financial Planning's advice has put me in a great place. With very important financial decisions small or large you can trust Fingerprint for the very best advice and service.
Client since 31/05/2019
I found my financial adviser Paul Spencer-Nixon to be very friendly and knowledgeable. He has kept me up to date about my investments with a good understanding of what my hopes and dreams are for the future whilst providing financial security for me and my family in my retirement.
Client since 2013
I have found Paul, my contact at Fingerprint Financial Planning, easy to talk to and friendly. He understood my requirements and offered a balanced view on my options and potential pitfalls. He also managed to pitch feedback at my level of understanding. I find him very personable and I think we get on quite well.
Client since 2018
The one thing I'm most passionate about is:
My world is about two little baby girls and getting as much time with them as possible
On an ideal weekend, you can find me:
Out early having breakfast and either going for a walk with my girls or at a nice relaxed car event
My favourite holiday destination is:
Italy or Brazil to visit family
My favourite song to play in the car is:
I like to shuffle and be surprised. I've also now discovered audiobooks
If I could turn any activity into an Olympic sport, I would win a medal in:
Snooker – had a love for playing this sport when I was a kid
When the dessert menu arrives, I'm looking for:
The coffee!
The three qualities that draw me to new people are:
Genuine, enthusiastic and confident
The best gift I've ever received is:
A box of very personal gifts from my team, including a poem written just for me as a new Dad. It was a useful survival kit but also an extremely kind and thoughtful gift. I'm very lucky to have a team where we know each other's journeys and care about what it means
The three people at my dream dinner party would be:
Richard Branson, Chris Evans and Anderson Silva
The three small things that make my day better are:
My team that constantly improve me and our client experience, coming home to my daughters and a very patient and supporting wife
The things I love most about my job are:
Client feedback and when someone refers us to help their mum - I feel this is the biggest confirmation of trust
The types of people I most enjoy working with are:
Successful people who want help to get to the next level. We help with technical financial and tax planning advice, but also use our experience to support clients through their personal and business lives
At home
Outside of work I'm a family man with two young daughters and a wife. With a family full of girls, I'm well and truly out-numbered, so any time doing 'guy things' is nice!
Contact us
Please complete the form if you have an enquiry or would like to arrange a no charge, no obligation meeting.