After a busy few weeks here at Fingerprint Financial Planning, your latest team update covers new arrivals, new challenges, and newlyweds.
But first, in your latest edition of "In the Spotlight", we speak to business relationship manager Helen Hinde.
Helen has over 20 years' experience in the financial and banking world. She has been part of the Fingerprint Financial Planning family as a relationship manager for five years.
"In the Spotlight"
What do you like most about your job?
I work with a great team who always go above and beyond to help our clients. The different activities I undertake in my role mean that no two days are the same. It makes my job very interesting.
We have a great bank of clients and are picking up new ones all the time. Some get in touch after seeing our online reviews and others come to us via recommendations. However people find us, I really enjoy building and developing strong relationships with new and existing clients.
We have a very team-based approach here at Fingerprint Financial Planning. I love to speak to, and get to know each client, and what their plans are. I am then proud to introduce them to our team of professionals who can further the conversation, helping to provide solutions that are individual to each client.
I really enjoy attending and hosting networking and corporate events. I get to talk about all things Fingerprint, including the services we provide, which is everything barring a bank account!
I also enjoy working with industry professionals such as estate agents, accountants, and solicitors.
A lot of financial planning companies do not have relationship managers. What do you think your role brings to the business and how does it help our clients?
We are all about relationships here at Fingerprint. The clue is in the title of my role, "relationship manager" (RM).
Clients need to know that they have a point of contact: someone they can communicate with throughout their journey with us.
Few financial services firms have a dedicated RM, but we do. We invest in our clients, maintaining long-term relationships. Part of that is listening to our clients and taking their feedback onboard. It's really important to us and the best way to help our business move forward.
Can you give an example of a client you have really helped recently?
I spoke to a client and his wife who called us directly. Both of the clients made me aware that they were hard of hearing.
Following a three-way conversation over the telephone through a British Sign Language interpreter, it became apparent that the client was approaching retirement and looking to receive pension advice about the best way to draw from his plans.
I reassured the client I could arrange a face-to-face meeting at their home address and also help coordinate for a British Sign Language interpreter to sign for the meeting. The clients were delighted and felt that we had gone above and beyond to assist them.
They were worried if such a meeting would be possible and we made it happen. That's what we do.
Based on your experience in the financial services industry, what are the 3 most important things you would tell your 21-year-old self?
1. It's never too early to start saving for your retirement!
2. Buying your first home is exciting but can also seem complicated
There's a lot to think about and it's a huge milestone. My advice would be to speak with an independent mortgage adviser as soon as you start thinking of moving or purchasing a home.
Many clients don't think to speak to a mortgage adviser until they've found a property and had an offer accepted. But actually, the sooner in the process you can start receiving advice, the better. An adviser can help you to understand the size deposit you'll need and the costs involved in purchasing a property. Understanding the deposit you might need, and how to save towards it, is really important, long before you find a property and make an offer.
If you're perplexed by the jargon or aren't sure where to start, an adviser can help. They can tell you how much you can borrow, and what a "mortgage in principle" is. Then there are the different types of mortgages and the impact of interest rates, tips for improving your chances of securing a mortgage, and the home buying process in general.
3. Budget wisely!
With the cost of living rising and inflation at a 40-year high, wise budgeting is more important than ever. Budgeting will help you understand what your levels of income and expenditure are, and stop any unnecessary overdraft usage or charges.
A warm welcome, huge congratulations, and good luck!
It's been a busy time at Fingerprint Financial Planning HQ. Here's everything you need to know, in your latest team update.
An official welcome to our newest team member
We would like to take this opportunity to welcome the newest member of the Fingerprint family.
Office administrator, Jack Brockman, is 17 and has joined us straight from sixth form. Jack is taking on an exciting new role as an apprentice.
The whole Fingerprint team wish him all the best in his career with us.
Huge congratulations on tying the knot
Financial adviser, Andy Gregory married Stephanie on 9 July. They are currently enjoying a dream honeymoon in the Maldives.
The whole team here at Fingerprint Financial Planning send our congratulations to the new Mr and Mrs Gregory and we wish them a lifetime of happiness.
And finally… good luck at the World Championships!
We are delighted and proud to announce that Olivia Brockman, age 12, will be competing at the highest level later this month.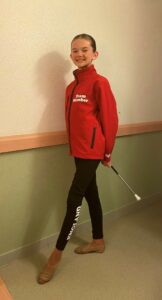 Daughter of Fingerprint mortgage adviser Jonathan Brockman, Olivia is attending the World Baton Twirling Championships in Eindhoven between 27 and 31 July.
Originally due to take place back in 2020, the championships were postponed due to Covid. After a nervous wait, the event is finally going ahead.
Fingerprint Financial Planning are very proud to be sponsoring Olivia.
We wish her all the best for the competition and well done on an amazing achievement.