In your team update this month, another Fingerprint Financial Planning team member took their turn "In the Spotlight". We speak to independent financial adviser Mark Hidson about his experiences working at Fingerprint HQ.
You can also read all the latest charity and team news, including how much Jon raised running the Brighton Marathon and some exam success for mortgage adviser Natasha.
But first, find out everything you need to know about Fingerprint's own, Mark Hidson.
In the Spotlight
Outside of work, Mark spends most of his time with his wife and three children or playing sports.
Mark, what do you like most about your job?
I love helping my clients achieve their financial goals. These can be quite varied from one client to the next, from saving a deposit towards a first home to affording a comfortable retirement. Every client is different!
Seeing a client achieve their financial life goals, and knowing that I have been part of that, is very fulfilling and one of the main reasons I love my job.
Can you give an example of a client that you have really helped recently?
One client who immediately stands out was looking at the possibility of retiring early due to the stresses of work. They still had a mortgage – with an early repayment charge – and worried that this could make giving up work difficult.
Together, we looked through all of the client's available options and found that they could retire early, while also repaying the mortgage – albeit throughout a couple of years.
This allowed the client to retire early, reducing their stress and giving them more free time to spend with their grandchildren. It all saved them thousands of pounds on the mortgage's early repayment charge and potential tax.
In your opinion, when is the best time to start retirement planning and why?
I would say the earlier the better.
If you can put money aside and leave it to grow for 30 years rather than 10 years, then inevitably, you should be better off. Not only does your money have an additional 20 years of potential growth to obtain, but there's compounding to consider too. It's a snowball effect.
If you're paying money into a pension then the benefits are even greater. You can add tax relief from the government, which is effectively a free top-up. And if you are employed and paying into a workplace pension, then your employer should be contributing to you as well.
As I said previously, though, every client is different.
Planning for the future is always important, but for some, there might be short-term changes to be made first. That's why it's so important that I get to know my clients well, so that I can prioritise effectively and ensure that all their needs are addressed and in the right order.
Do you only advise on pensions and retirement planning?
No. I provide advice on investments as well. This can form part of retirement planning for some clients but can include those with different goals.
I also provide advice on protection products, like life cover, critical illness, and income protection. This allows me to ensure that once I put a financial plan in place for my clients, they are financially protected and able to withstand unforeseen shocks.
I am also qualified to advise on mortgages and equity release, so can help clients to identify potential opportunities or solutions in this area.
What 3 pieces of financial advice would you give your 21-year-old self?
Number one: always ensure that you have protection in place, like income protection. Accidents and illnesses can happen at any time and could mean time off work. If you're reliant on your income to make rent or mortgage payments, why risk losing that income?
Life cover might also be necessary, especially if you're in a long-term relationship or have children.
Two: open a Lifetime or Help-to-Buy ISA to start saving towards buying your first home. Getting on the property ladder can be tough, so, as with all other aspects of your retirement planning, start early.
Combine this with building up an emergency savings pot, because none of us knows what's around the corner.
Finally, I'd say be sure you join your employer's pension scheme and don't be content to stick just to the minimum contribution. Contribute up to an amount your employer will match, or more if it's affordable for you.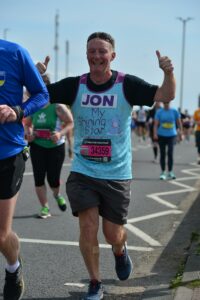 Your Fingerprint Financial Planning charity update
Fingerprint's charity fundraising efforts continued this month.
Jon Lock (pictured above, mid-race and in his My Shining Star marathon vest) successfully completed the Brighton Marathon in a time of 5 hours and 12 minutes.
Jon says that he "loved every second of it and the crowds in Brighton were fantastic". He enjoyed it that much, in fact, that he's changed his mind about doing another, saying "I've gone from 'I would never, ever do one again' to 'I will most definitely be doing another!'"
This marathon effort has so far raised an impressive £1,790. The combined total comprises independent donations, "Refer a Friend" vouchers that have been kindly donated by clients (and then doubled by Fingerprint), and internal donations from everyone that took part in our charity quiz.
And speaking of our inaugural fundraising quiz, after a great night with fun had by all, the eventual winner was Emily.
Here she is showing off her well-deserved trophy: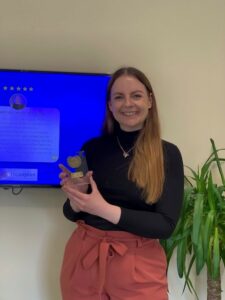 Exam success for the Fingerprint Financial Planning team
Finally, in what has been a packed update this month, our congratulations to client manager, Natasha Foreman and financial planning administrator Eve.
Natasha passed her final CeMAP exam in March and is now a fully qualified mortgage adviser.
Eve, meanwhile, has passed her FA2 Pension Administration exam from the Chartered Insurance Institute.
A big well done to Natasha and Eve for all the hard work they have put in!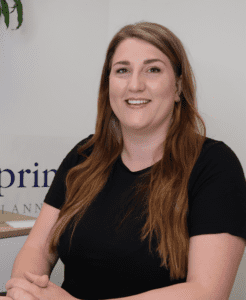 Get in touch
If you'd like to talk to Mark, Natasha, or any of our experienced mortgage advisers and financial planners, contact us now. Get in touch by emailing hello@fingerprintfp.co.uk or calling 03452 100 100.