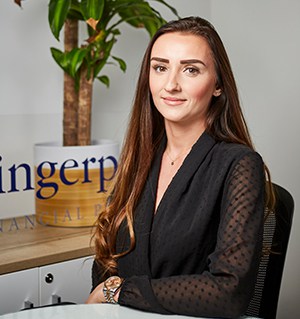 Ivy Klein
MARKETING CO-ORDINATOR
The office is in a great location – the middle of a historic dockyard. There are warships, and also a steam train that passes by my window several times a day. That certainly makes the day more interesting!
At work
I have worked in a client facing role for the majority of my career and here at Fingerprint, I will be working alongside Helen our Relationship Manager to act as the first point of contact for our clients. My job is to make sure we gather enough information about our clients to know how we can help them best.
Initially, I approached Paul for help with a mortgage, but we're now looking at where to best place my savings and my future planning for retirement. I've received sound and elaborate advice.
Client since 11/02/2016
Paul has always worked hard to research the full market to find the right mortgage deal for me. Paul is not affiliated to any lenders so I always get the most competitive rates available. I receive completely impartial financial advice which is tailored to my personal needs.
Client since 14/06/2013
Paul explained everything very clearly and took the time to find out about my financial history so he could better understand what would be the best option for me.
Client since 24/07/2019
Paul was recommended to us to help with Inheritance Tax planning. The service exceeded our expectations and we have been pleased with the outcome.
Client since 20/09/2019
Paul was very honest and open and made sure that I understood every step. There's nothing that he could have done better.
Client since
Fingerprint Financial deal with our pensions, insurances, mortgages, long-term planning and Inheritance Tax planning. Paul's experience and knowledge in all these areas has been invaluable in ensuring our financial outcome and future is secure, planned and constantly managed.
Client since
After some time worrying about my pension, Fingerprint Financial Planning has located pensions I would never have found. I'm very happy with the good service and would recommend to friends and family.
Clients since 01/08/2019
Absolutely fantastic service. The staff are amazing, friendly but very professional and quick to respond to any questions. We would thoroughly recommend Fingerprint to anyone requiring financial advice.
Clients since 24/07/2019
Excellent service. This isn't just a mortgage broker or a financial and wealth planner, this is a full service financial advisory service. The staff are friendly, efficient and work at pace. In today's world of ticking boxes and scripted replies, it's refreshing to get a personal touch.
Client since 14/03/2019
Highly recommended. Professional, friendly people who are very knowledgeable and helpful. They put your mind at ease because they know their stuff.
Client since 01/05/2019
Fantastic service, very professional, informative and probably the best service I have received in this field. Good people, ethical and would certainly recommend them as a business to anyone!
Client since 01/05/2019
Truly friendly, professional, dedicated to one's strategy.
Client since 09/11/2018
Very clear and concise, every step of the way when dealing with our remortgage requirements. Big thank you especially to Paul, and to Harriet. Highly recommended.
Clients since 10/07/2019
I have used Fingerprint Financial Planning a couple of times now to set up a new mortgage or to remortgage for a better deal. On every occasion, they have been professional and accommodating, and importantly carry out the donkey work of looking for the best deals on the market - all for a reasonable one-off fee. Highly recommended!
Clients since 02/10/2018
From start to finish the guys at Fingerprint Financial were incredible! They ensured my mortgage went through smoothly and continued with their professional support right up until I was settled in my new home. Responsive customer service from Victoria, who I highly recommend to all my friends and family and will continue to use in the future myself.
Client since
I received a very good service from Fingerprint Financial Planning and would recommend them to anyone.
Client since 24/07/2019
Exceptional service once again, quick, efficient and smooth service as always.
Clients since 05/09/2019
I have been using Fingerprint Financial Planning for four years now. The team are extremely helpful and friendly and I would highly recommend them.
Client since 09/11/2016
I cannot praise this company enough. Especially, Shane Brockwell - he is my hero! At a time when there was so much stress in my household, Shane arrived, calmed me down, almost immediately saved me £230 a month on my mortgage payments and has found a far better product for when I am ready to buy our new house. Thank you, Shane and Co. You rock!!!
Client since 17/11/2019
Shane and the team are very knowledgeable and efficient, managing to find me a mortgage on a property that had its complications. I was very happy with the professional service and would absolutely use them again. Recommended!
Client since 19/07/2019
I am a landlord with four properties as well as my own home and have used Fingerprint Financial Planning for all my mortgage needs for over 10 years. They are knowledgeable, efficient and incredibly supportive. I would certainly recommend them.
Client since 17/06/2009
I thought I was fairly money savvy, but after speaking with the small, really friendly non-judgemental team, they gave me other options I had not thought about. Fingerprint Financial Planning's advice has put me in a great place. With very important financial decisions small or large you can trust Fingerprint for the very best advice and service.
Client since 31/05/2019
Friendly and competent staff. Fingerprint Financial Planning treats you as a valuable customer. A pleasure to work with this company. Always available on the other side of the line. Regular feedback. I can highly recommend Fingerprint.
Client since 02/05/2018
A great service that I have used a few times, and I can't recommend highly enough. Always someone who is happy to answer your calls and help you. They also get back to you in a timely manner...a refreshing approach to business.
Clients since 02/04/2019
Right from the beginning to the very end, Shane and his team have been very helpful. Giving me the best advice and looking for a suitable mortgage deal. Many thanks, guys!
Client since 02/08/2019
Great team and very helpful. Made the process of buying our house a lot easier.
Client since 17/04/2018
An absolutely outstanding company. I got introduced by a friend years ago now and I have been using them ever since. The team in the office are all very polite and helpful, nothing is too much trouble. If you've not used Fingerprint Financial Planning yet, it's time you did!
Client since 15/07/2015
They go out of their way to help and make you feel valued.
Client since 09/07/2017
Excellent service; highly, highly recommend this company.
Client since 22/02/2018
We have been working with Shane at Fingerprint for the last three or so years. Our needs have not been straightforward but Shane has been there 100% for us, organising the best mortgage deal and brilliant life insurance cover. We couldn't recommend him and Fingerprint Financial Planning enough - thank you!
Client since 19/07/2019
The one thing I'm most passionate about is:
Seeing the world, enjoying my day-to-day life at the same time as achieving my goals – no one is here for long.
On an ideal weekend, you can find me:
With Bruno or a picnic with my partner or both!
My favourite holiday destination is:
Morocco or Skiathos
The first album I bought was:
I can't actually remember but I'm certain it was embarrassing
If I could be any fictional character, I would be:
Mrs Incredible
If I could turn any activity into an Olympic sport, I would win a medal in:
Spending too much time on Instagram or cleaning.
When the dessert menu arrives, I'm looking for:
Any cheesecake
The three qualities that draw me to new people are:
Humble, kind-hearted, and ambitious
My pet peeve is:
People speaking over each other
The best gift I've ever received is:
Bruno!
The three people at my dream dinner party would be:
Morgan Freeman. I can't think of anyone else so it would just be me and Morgan.
The three small things that make my day better are:
Sunshine, good hair day, clean house
The proudest moment of my career so far is:
Presenting my master's dissertation at a psychology seminar
The three things I love most about my job are:
The people, Helen is a very good teacher and has put up with all my questions! Fingerprint genuinely help people, whether it's facilitating them buying their first home or reassuring them that their family is looked after when they're no longer here by way of a will. There is a steam train that passes by my window several times a day and it certainly makes it more interesting.
The types of people I most enjoy working with are:
Pragmatic, positive, hardworking
At home
I like to travel. I have visited many countries and enjoy experiencing different cultures.
I have had a horse since I was about ten – and still have him actually, he's 36! So, I like to spend time with Bruno when I get the chance.
Contact us
Please complete the form if you have an enquiry or would like to arrange a no charge, no obligation meeting.