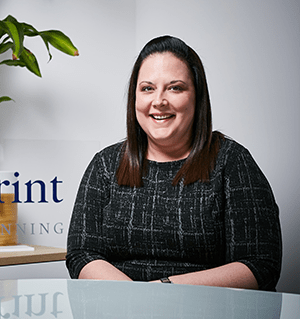 Helen Hinde
BUSINESS DEVELOPMENT MANAGER
My role is to ensure our clients feel valued and important and make the necessary connections needed.
At work
I began my career with NatWest Bank, then moved to Barclays Bank, where I was promoted to Branch Manager. I then spent several years as Premier Relationship Manager; a role that required me to nurture business relationships, select the best financial products for clients, plus connect business partners and businesses together.
At Fingerprint, I've been able to carry on helping clients fulfil their financial objectives, by understanding how we can achieve an all-encompassing review of their needs. I then make an introduction to one of our professional advisers, who creates a bespoke plan for our clients' personal and business finances.
My role is to ensure our clients feel valued and important and make the necessary connections needed. I help to address any concerns and questions they may have and build a strong and sustainable working relationship with them.
They go out of their way to help and make you feel valued.
Client since 09/07/2017
The one thing I'm most passionate about is:
Health and happiness
On an ideal weekend, you can find me:
Either on a trip to the coast, going to see a show, shooting or catching up with friends.
My favourite holiday destination is:
Italy - I would love to live there one day
My favourite song to play in the car is:
Bruno Mars 'Just the way you are'
The first album I bought was:
New Kids on the Block
If I could be any fictional character, I would be:
Beatrix Kiddo from Kill Bill
If I could turn any activity into an Olympic sport, I would win a medal in:
Eating doughnuts without licking your lips
When the dessert menu arrives, I'm looking for:
Crème Brûlée, Salted Caramel Ice Cream, Toffee Pecan Roulade, any flavour Gelato and Tiramisu
The three qualities that draw me to new people are:
Honesty, don't take themselves too seriously, genuinely care about others
My pet peeve is:
Rudeness & arrogance
The best gift I've ever received is:
Being raised by my inspirational, dedicated, loving and strong parents and family
The three people at my dream dinner party would be:
Darcey Bussell, David Attenborough, Dame Judy Dench
The three small things that make my day better are:
Keeping hydrated, smiling, listening to music
At home
I have a huge passion for dance, art and theatre, and have a Teaching Qualification in Dance. Darcey Bussell is a huge inspiration to me.
I absolutely love Clay Shooting and belong to BASC and hold my own shotgun licence.
I also enjoy swimming and obtained my PADI diving licence enabling me to explore the big blue ocean. I also enjoy travelling abroad seeing new cultures and people.
Contact us
Please complete the form if you have an enquiry or would like to arrange a no charge, no obligation meeting.